Your
SECRET WEAPON

for weight loss...
Is right on the SIDE of your HEAD!
If you're overweight, STOP looking in the mirror!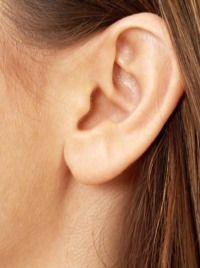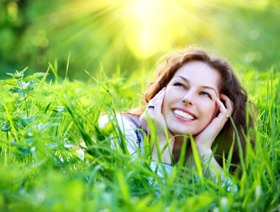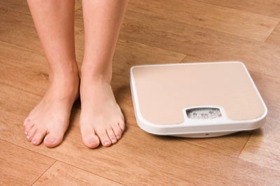 How often do you look at your thighs, stomach, hips or bottom, not at all happy with what you see and wish you frankly saw less? What would you say if I told you you've been looking in the mirror the
WRONG WAY
all this time? It's true! You're focusing on the effects, not the cause of your weight problem.


It's a fact:
crunches and sit ups AREN'T any more effective at helping you lose belly fat than any other exercise, even though they work your belly muscles. This is because the belly muscles aren't the CAUSE of your belly fat.

In actuality, if you're carrying excess pounds—and the majority of us are—it is much more likely due to poor diet, overeating, and a dysfunctional metabolism.

And chances are you've tried, at some point, to lose weight by eating better, eating less, or both.
BUT IT'S HARD!
I've been there too. Nobody likes starving. And yo-yo dieting only leads to more weight gain in the future. Willpower just isn't enough; you need something extra and I'm here to show you what it is.

What would you say if I told you that "something extra" is right there in the mirror, waiting to be put to work? It's true.

Instead of looking at your "fat parts" try looking a little higher. Right up there on the sides of your head—
at your ears.


Now, while you're contemplating the shapes and folds that collect the sounds of your world, let me tell you about a highly successful weight-loss technique that relies on your ears for results.

It's called auriculotherapy—which is really just a way of saying "ear treatment"—and it's been used for thousands of years to treat everything from allergies to injuries to obesity. The ancient Chinese discovered auriculotherapy as an adjunct to acupuncture, in a system that allows nearly any part of the body to be treated through reflex points on the ear.

More recently, science has shown that ear treatment is powerfully effective at helping people break addictions to food, nicotine, even drugs!

Auriculotherapy works WITH your body to decrease appetite, increase metabolism, and combat the cravings and emotional behaviors that keep you fat. It's true, it's real, and best of all, it's super EASY when you know how to do it.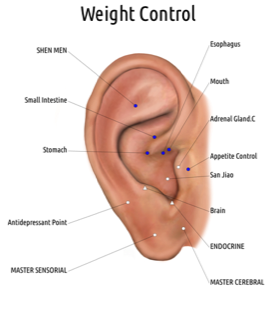 It sounds pretty strange, doesn't it? Treat special points on your ears to lose weight?
I don't blame you for being skeptical, so take a look at these scientific studies:
Beats Medication:

A 1993 study of 110 overweight people showed that patients receiving auriculotherapy lost an average of 11 Lbs. and 3% body fat during the 3 months of the study, compared with 6.6 Lbs. and 1.54% body fat reduction in the control group, who received only obesity medication.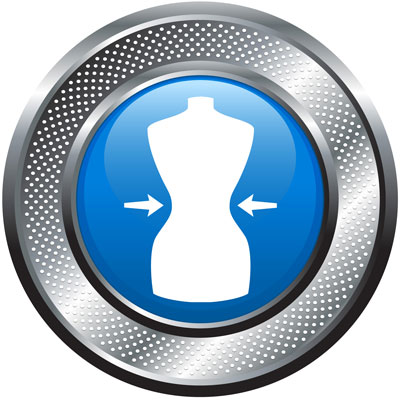 Bonus:

Lower Triglycerides! In this same study, the participants' triglycerides dropped by 67 points, compared with 38 points on average for the control group.
Feel Full Longer:

Another study demonstrated that auriculotherapy inhibits smooth muscle tone in the gastric wall. This delays emptying of the stomach, helping you feel full longer!
Better Self-Control!

A 1998 study of 42 patients receiving auriculotherapy for 12 weeks demonstrated an average weight loss of 21 lbs., as well as lower triglycerides and cholesterol. Patients reported an increased ability to discipline their eating under the auriculotherapy program.
Decreased Appetite!

A 2010 study of the effects of auriculotherapy on appetite recruited 42 volunteers and asked them to rate their appetite and desire for food before and 30 minutes after auricular acupuncture treatment. The results showed decreased appetite in the auriculotherapy group, as compared with the control group.
Decreased appetite, increased feelings of fullness, lower triglycerides, greater weight loss, greater self-control—who knew your ear could do so much?


Better yet, once you know how to use auriculotherapy, it's incredibly easy to do on yourself, or on someone else.

I'm sure you have lots of questions, so here are some answers to the big ones:


Is it Magic?
No. As much as I'd like to tell you you can eat like a horse and sit around all day touching your ear to lose weight, we both know that's too good to be true. Auriculotherapy isn't a magic cure all for weight loss. But if you're already doing the right things—eating right, exercising moderately, getting good rest—auriculotherapy will EMPOWER your body while making it EASIER to stick to your guns and get the RESULTS you deserve. (Remember, study participants lost nearly TWICE the weight on the same program when they added auriculotherapy!)


Is it Safe?
Absolutely! Auriculotherapy uses no drugs, no pills, and no needles. You can treat the special ear points with pressure or tiny electric currents. The only side effects associated with auriculotherapy are all positive—like decreased stress, increased energy, and deeper sleep.


Is it Complicated?
It's super easy. I'll show you the exact points to treat, how to find them, how to treat them, and how to make your results last for days, not hours, each time.


How Does it Work?
The ancient Chinese practice of acupuncture teaches that there are energy pathways throughout the body, carrying information throughout a biological network to every organ, tissue and cell. This signaling network helps regulate all your body functions. The ears serve as communication ports within this network—providing the perfect way to send signals to your metabolism and organs. Treating the right points will decrease appetite and emotional eating, increase feelings of fullness, and improve your metabolism.
How Do I Get Started?
I've made it really easy for you with my Ear Acupuncture for Weight Loss starter kits. These kits include everything you need to prepare for and successfully execute your personalized program:
What's Included?
•
Book:
Auriculotherapy for Weight Control with Background, Instructions and Full-Color Charts

•
Video Instructions
for How to Treat Ear Points Without Needles

•
Ear Probe
for Finding Active Points to Treat

•
Ear Seeds
for Treating Ear Acupuncture Points at Home (90-day supply)

•
PRO Bonus!
My premium kit includes the Stimplus Pro professional acupuncture point locator and stimulator. This tool makes it super easy to precisely locate and treat the RIGHT points to get you the RESULTS you want!
90-Day, Money-Back Guarantee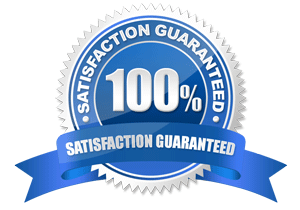 I'm so certain you're going to LOVE Auriculotherapy for Weight Loss, I'm backing it up with a full, 90-day, no-hassle guarantee. If you don't love the program and the RESULTS, simply return it for a full refund of the purchase price!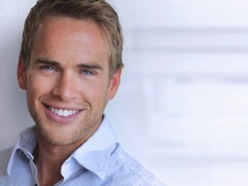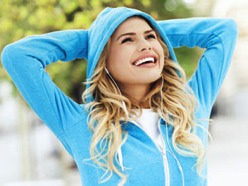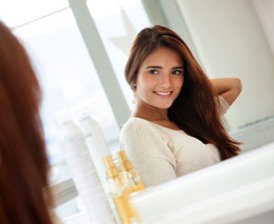 Choose the kit that's right for you: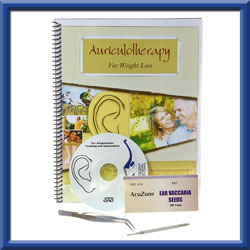 Ear Acupuncture for Weight Loss Basic Kit
This packages includes:
Book: Auriculotherapy for Weight Loss with Background, Instructions and Full-Color Charts

Ear Probe for Finding Active Points to Treat

Ear Seeds for Treating Ear Acupuncture Points at Home (90-day supply)

Special Ear Seed Tweezers for Easier Application
3 Easy Payments of $27.00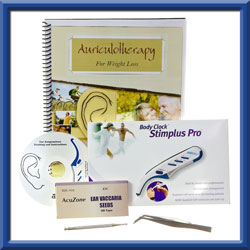 Ear Acupuncture for Weight Loss Premium Kit
This packages includes:
Book: Auriculotherapy for Weight Loss with Background, Instructions and Full-Color Charts

Ear Probe for Finding Active Points to Treat

Ear Seeds for Treating Ear Acupuncture Points at Home (90-day supply)

Special Ear Seed Tweezers for Easier Application

Stimplus Pro Point Locator and Microcurrent Stimulator, with video instructions and demonstration
3 Easy Payments of $97.00